When contrast technique fits visual storytelling
We live in an age more and more marked by digital and the communication field undergoes a continuous evolution and new reprocessings that deeply change the way we manage the communication flow.
The importance of images for an efficient and engaging communication is by now clear for all: anyone can experience it, starting from his/her daily life. We are now constantly subjected to an undifferentiated stream of visual elements, that have a more direct and easy impact than words.
Indeed, Social Networks that allow people to take pictures, shoot video and share them with the community are on a steady rise and now definitely represent the new "route" of digital communication: platforms like Instagram, Periscope and Snapchat have based their success on the emotional impact of visual communication.
Images have become the undisputed protagonists of other sort of communication such as storytelling and it is no wonder that techniques that have already been used successfully in other contexts also apply to them more and more frequently. A perfect example is the "perceptive contrast", used by marketers to drive the consumers perception of a given product on the strength of what has been shown to them before.
The goal of this strategy, applied to images, is to tell a story or deliver a message by using visual contrasts aimed at catching the attention at the first sight.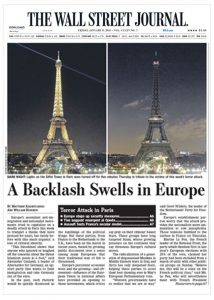 One of the most suitable examples of this technique has been provided by "The Wall Street Journal" that, on the occasion of the terrible attack to the editorial staff of the French satirical newspaper "Charlie Hebdo", published a double image of the Eiffel Tower: brightly lit on one side and totally switched off in respect for victims on the other, creating a striking contrast more effective than a thousand words; to be effective the contrast shall be as eye-catching and strong as possible.
Another interesting example is the photo below, taken in San Paolo, showing the strong contrast between prosperity and poverty highlighted by the comparison between a luxurious modern architecture building and the deprived and extremely poor surrounding area.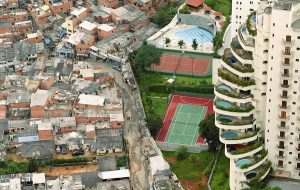 This and other visual storytelling techniques contribute to the creation of a more efficient narration and a better memorization by consumers.
A user who is emotionally engaged is more inclined to interact with the brand, whether it is a company or a publisher.
Another very strong example mixing the contrast technique, the real time marketing and the comparative advertising, is the give-and-take that took place a few days ago on socials between Carlsberg and Ceres.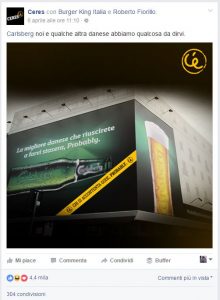 Ceres in fact, echoed a post published on Facebook by its competitor with a retouched mirror image.
The effect on the community, not without some debate, was not long in coming.
We let you take stock of this question and consider the impact of social fight between the two Denmark's most famous lagers in the world.