PRGN awards Sound Public Relations with Best Community Relations Campaign.
The award-winning project "Train and run with The North Face" was related to Sound PR's work with the leading outdoor brand The North Face.
Sound Public Relations, global public relations agency based in Milan, has been awarded with the Golden PRGN Best Practice Award 2016 for the category "Community Relations", in the occasion of the PRGN meeting that just took place in Lisbon.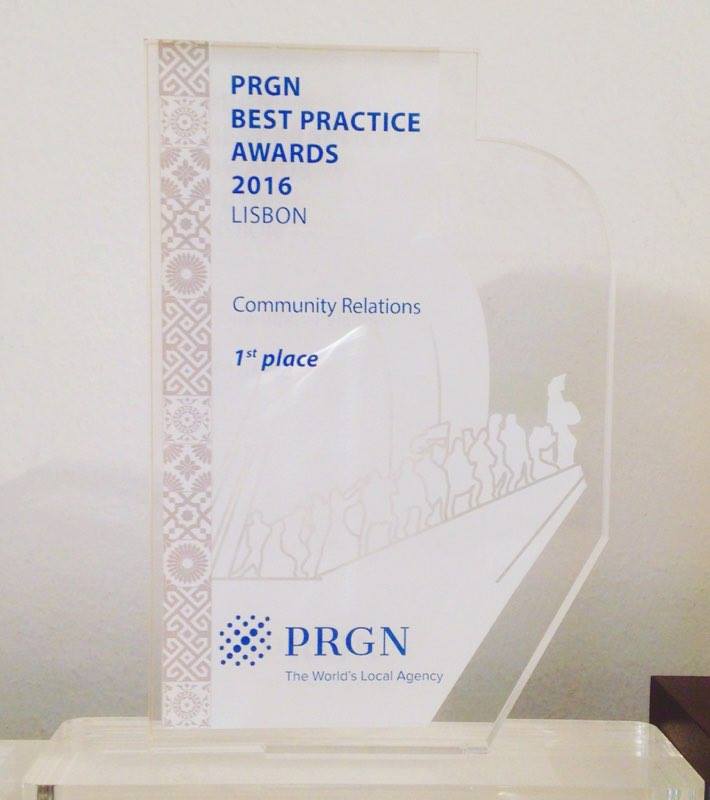 Sound Public Relations achieved this prestigious recognition thanks to the campaign developed for the leading outdoor brand The North Face.
This is the third PRGN award in a row won by Sound PR .After receiving in 2014, the Golden Award in the Corporate Communication category, thanks to a communication campaign deployed for Veeam Software, in 2015, the milan-based agency received the Bronze Award in the Consumer Communication – Products category for a project related to Sound PR's work with Lenovo.
Designed to facilitate the knowledge sharing among the network's agencies, the PRGN Best Practice Award has experienced, over the years, an ever-greater involvement and participation by member-agencies which are now over 50. The competition, now in its sixth edition, saw the registration of 127 projects in 17 categories. The winners are awarded by the associated agencies' team. Alessandra Malvermi, Managing Partner of Sound Public Relations, commented: "Fifty among the major PR agencies in the World have judged and voted the127 entries at the PRGN Best Practice Award. Receiving first prize by such a skilled and qualified jury is a tremendous honor and source of pride for our team".
 Gold awards were earned by:
Multi Communications (Cleveland, USA), Spider PR (London, UK),  Landis Communications Inc. (San Francisco, USA), Cros (Moscow, Russia), HWB Communications (Cape Town, South Africa), Goodwill Communications (Budapest, Hungary), Free Communications (Bucharest, Romania), The Castle Group (Boston, USA), Lewis Public Relations (Dallas, Texas) and LC Williams and Associates (Chicago, USA).
Other winning firms earning silver or bronze recognition included:
The Fearey Group (Seattle, USA), Rumbo Cierto comunicación estratégica (Santiago de Chile, Chile), The Hoyt Organization (Los Angeles, USA), SCR Communication and Public Relations (Barcelona and Madrid, Spain), CooperKatz & Company, Inc. (New York, USA), Cullen Communications (Dublin, Ireland), Buchanan Public Relations (Philadelphia,  USA), WE Agency (Paris, France), Industrie-Contact AG (Hamburg, Germania) e HMA Public Relations (Phoenix,  USA).