The all new CadMouse Pro Wireless set for May debut
3dconnexion adds powerful durability to their CadMouse lineup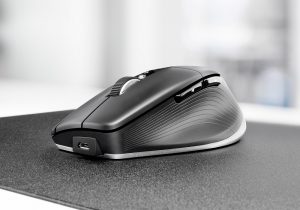 MUNICH, GERMANY – 3Dconnexion, the global leader in advanced 3D navigation devices, announces their latest endeavor to provide CAD users the most efficient, durable, comfortable mice possible, with a spring release of the new CadMouse Pro Wireless.
"CadMouse Pro Wireless is another step in the evolution of our toolkit for CAD professionals," says Antonio Pascucci, CEO of 3Dconnexion. "We wanted to provide an extremely durable, highly ergonomic full-sized mouse for the modern workstation. It's a mouse that will go wherever you need it, with an exceptionally long battery life. It was designed with the kind of ergonomics and button layout that will allow its user to work pain free for extended CAD sessions. It feels natural to use and is the perfect counterpart to our SpaceMouse line of 3D mice."
CadMouse Pro Wireless is versatile and purpose-built for the professional CAD user. Its angled shape produces ideal wrist rotation for a more natural hand placement and comfort. Combined with its CAD-specific middle mouse button, intelligent scroll wheel, high-resolution optical sensor, QuickZoom feature, simple access to its programmable radial menu and over 50-million clicks-worth of durability, CadMouse Pro Wireless is the mainstay of any modern toolkit.
CadMouse Pro Wireless comes with a rechargeable lithium polymer battery, triple connectivity (Bluetooth® Low Energy, 3Dconnexion Universal Receiver or micro USB cable), a Smart Mouse Wheel 2 for precise click-to-click zooming in CAD applications with controlled speed scrolling in read mode, and much more. In keeping with its wireless, mobile pedigrees, it comes with a semi-rigid carry case for safe transportation.
CadMouse Pro Wireless will be priced at $119 and will be availabe June 04, 2019.