IFCO SYSTEMS awarded as "Best Performer of the Circular Economy" by CONFINDUSTRIA
IFCO SYSTEMS, the leading global provider of reusable packaging solutions for fresh foods, has won the award as "Best Performer of the Circular Economy" by CONFINDUSTRIA, the main association representing manufacturing and service companies in Italy. The renowned award proves IFCO's worldwide commitment to protecting the environment.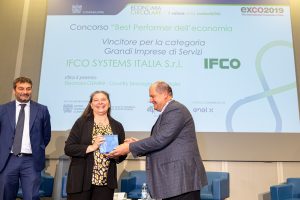 The award aims to enhance the value of companies committed to seizing the spirit and business opportunities offered by the circular economy throughout the complete production cycle – from procurement to design, production, distribution, and consumption, to recovery and recycling.
CONFINDUSTRIA has recognized the value of IFCO's logistics management model, the IFCO SmartCycle™. This circular economy model is based on the principle of "Share and Reuse" to guarantee maximum functionality and hygiene throughout the complete fresh foods supply chain. The IFCO SmartCycle™ uses Reusable Plastic Containers (RPCs) that are delivered directly to the supplier. From there, the containers are transported to the distribution center, the retailers, and then back to the IFCO collection and washing centers. In the washing centers, the empty RPCs are inspected, cleaned, disinfected and prepared for the next cycle. In addition, the IFCO RPCs are foldable, reducing bulk and thus optimizing transport and storage with an additional positive impact on the environment.
IFCO's washing systems are designed to reduce water consumption and to allow energy recovery and water reuse. In some of the washing centers, water and steam recovery and regeneration processes have also been implemented – a technology that will be extended to other washing facilities in the future. Thanks to this innovative approach, IFCO has reduced its water use by 9%, while washing more RPCs than in 2017.
"We are very proud of the award by CONFINDUSTRIA, as it acknowledges our tangible commitment to sustainability that has always distinguished us – not only in Italy but around the globe. In 1992, we were the first to propose the circular usage of reusable plastic containers for the fruit and vegetable market. This has turned into an efficient and profitable business – and a holistic sustainability approach. At IFCO, we do business without compromising our responsibilities to the environment, the people and the communities we deal with. We place this vision at the center of our business practices since we see sustainability as the core concept that encompasses everything we do", explains Wolfgang Orgeldinger, CEO of IFCO SYSTEMS.
The award ceremony was held in Rome on May 16 in the presence of Eleonora Gemini, Managing Director of IFCO SYSTEMS Italy.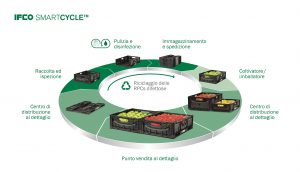 The IFCO SmartCycle™ is a closed and totally sustainable cycle: All of IFCO's RPCs are used between 30 and 120 times before being removed from service due to wear, damage or design changes. In addition, damaged containers that cannot be repaired are 100% recycled and used for the production of new RPCs, significantly reducing the demand for raw materials.
"IFCO's business model is based on the concept of circular economy. Our IFCO SmartCycle™ is a great example for that: The sharing and reusing of RPCs directly translates into tangible and measurable ressource savings. Compared to one-way packaging, RPCs reduce CO2 emissions by up to 60%, save up to 64% of energy and up to 80% of water, as well as up to 86% of solid waste. To save food, RPCs also reduce product damage by 96% compared to one-way packaging. These vast resource saving have also been proven by a critically reviewed life cycle assessment study conducted by IFCO and SIM", says Wolfgang Orgeldinger.
IFCO constantly monitors the environmental benefits generated by its RPCs and the SmartCycle™. In Europe and North America, the following savings have been achieved in 2018:
• 590,155 tonnes of CO2, equivalent to 320,471 fewer cars on the road in a year
• 10.6 million cubic meters of water, equivalent to over 240 million five-minute showers
• 37,840 terajoules of electricity, enough to power over 19.9 million light bulbs for a year
• 303,980 tonnes of solid waste, equivalent to the trash produced by 223 million individuals per day
• 54,075 tonnes of food product waste, equivalent to 90 million average meals in the world.
"The award as 'Best Performer of the Circular Economy' is an incentive for us to continue on our path towards an even more environmentally friendly supply chain that serves us all. The award is confirming our pioneering approach, which is made possible by the constant improvement and innovation of our products, our sustainable activities that reach way beyond the use of RPCS, and our efficient supply chain", concludes Wolfgang Orgeldinger.