SWITCH ON EXPLORE MODE WITH THE NORTH FACE
When people take time to appreciate Earth, they feel more connected to it and are more likely to protect it. That's why this spring, The North Face launches Explore Mode, a global movement aimed at motivating people to unplug, and get out there to explore and connect with their surroundings.
Central to this is a petition to recognize Earth Day as a national holiday across the globe, as love for the planet comes from having the freedom to explore it. Everyone deserves time to explore and connect – you can sign the petition on the link below to make 22nd April a national holiday and spend the day exploring the planet.
Imanges and social assets available
https://www.dropbox.com/sh/phmdnqgrmcj9rvc/AAAvoFg6gUUP8XeCeZ08t27ca?dl=0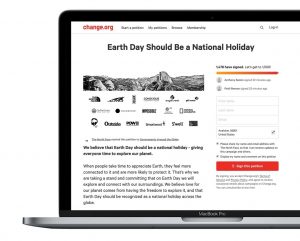 United Kingdom
earthdaypetitionUK.org
Germany
earthdaypetitionDE.org
France
earthdaypetitionFR.org
Italy
earthdaypetitionIT.org
Spain
earthdaypetitionES.org
"The North Face is no stranger to exploration and this Earth Day we are proud to join our partners and fellow explorers in a global effort to make Earth Day a national holiday," said Global General Manager of Lifestyle at The North Face, Tim Bantle. "We believe that when people take time to appreciate the Earth, they feel more connected to it and are more likely to protect it. Explore Mode urges us to unplug from our digital lives to connect in real life to the world, each other, and ourselves in the effort to move the world forward."
Today, we're spending more time in front of screens than ever before. The average person with a smartphone checks their phone 47 times per day, and we're averaging 4 hours a day of emails, photos and a steady stream of "you might like" suggestions. This behavior is hindering our ability to discover and make meaningful connections in the real world. When we unplug, we're more open to connect with each other, our communities, and the world around us.
In addition to the petition, The North Face will host a weekend of free #ExploreMode events across 10 European cities, aiming to inspire over 500 people to switch off and get their adventure on. London, Manchester, Glasgow, Munich, Berlin, Milan, Bolzano, Paris, Chamonix, and Stockholm will host a unique experience – from mountain top film premieres to urban exploration by bicycle – all with the common goal of turning off tech, to connect with the people and world around them. To sign-up and find out more, head to: www.thenorthface.co.uk/explore-mode.html
Supporting the campaign throughout April and May is National Geographic Traveller, releasing a stream of content across their channel to provide inspiration to their community to follow suit and get involved in the campaign.
To hear more about how you can switch on Explore Mode, head to www.thenorthface.co.uk/explore-mode.html  and. Or get involved by following @thenorthfaceuk / @thenorthfacede / @thenorthface #neverstopexploring on Instagram, and @thenorthface on Facebook.